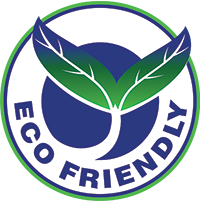 Trident Cleaners is proud to put the environment at the forefront of our business model. While it is impossible to operate a business of this nature in a manner that is 100% Eco-friendly, great thought and care was taken to incorporate these principles into our every day routines.
Our cleaning process starts by utilizing reclaimed water. This water is then heated to over 180 degrees to further eliminate impurities. This level of heat allows us to clean dumpsters and residential bins at a temperature that supports the absence of chemical agents. Our self-containing unit collects and then filters the waste water until draining. Further, we have partnered with a local car wash to additionally filter, recycle, and responsibly dispose of our water. Residual debris and solid waste that is collected during the course of the day is disposed of in trash bags that can decompose naturally.
Trident Cleaners supports a paper-free workplace. Nearly all business activities are completed electronically. Paper copies of customer documents are only available upon request.